We are a Denver, CO based digital marketing agency with a strong emphasis on SEO rankings, increased traffic, & generating great ROI.
A fully invested and transparent digital marketing agency with SEO experts ready to connect with you and your business. We will educate you and streamline your process to help you gain knowledge on best SEO practices — proven and trusted by our experts.
Contract-Free
We do not believe in lock in contracts for any of our SEO services. We pride ourselves on our connection with you and your business and we believe in retaining your business month- to-month. We empathize with you and we understand 'life happens'. Therefore, we ask for a 30-day courtesy should you wish to cease services.
Proven & Trusted Track Record
With only a limited number of client openings, we take the time to hand select our clients. There are only so many top spots in the SERP (Search Engine Results Pages). Understandably so, we are wise in our selection for each niche.
No Hidden Costs
There is no fine print with our SEO services. We have a fixed monthly fee and we intend to keep it that way. A fixed fee affords us the ability to perform thorough keyword and competitor research and complete the services within the desired timeframe. We are able to functionally manage the expectations at the start of any SEO campaign.
We Walk the Talk in SEO
The competition is thick with over 1.7 billion websites, and outranking your competition is our top priority. Here in Denver, if we can win that battle, then you can trust we know what it takes to help you in your industry win that battle.
Educational Focus
Our developed and passionate team of experts takes an educational approach with our SEO services. We take you along for the creative journey.
Because of the work that goes on behind the scenes in an SEO campaign, it can be difficult to understand the process and what you're investing in. Our team of experts in Denver does their best to shed light on the work being done and the steps being taken. And in turn, you learn along the way and trust your investment.
Monthly SEO Reports
Your success is our top priority. We provide concise and transparent progress of your SEO results. Leads, organic traffic, and rankings are all key components in your SEO campaign. And we offer multiple forms of reporting that you can choose from tailored to your communications needs and style.
How our Denver Based
SEO Service

Works?
We understand that every SEO campaign is different. We carve out the time to perform extensive research to understand the magnitude of your industry and your services. With high levels of competition, this time spent on research helps us execute flawless Search Engine Optimization (SEO) strategy.
Our reputation and your business's success is the driving force in our process. We take web analytics data and critical business information to create top-notch formulas. This process ensures you receive an abundant ROI.
Our team of SEO experts continuously evolves their development and practice to stay ahead of the search engine algorithms. Staying ahead ensures you can trust us with your business and your success.
What Do Our
SEO Services Include?
We waste no time! Once we have reached a place of clarity in understanding your business, we get right to work. Search Engine Optimization is a long-term strategy, but it can take double, or maybe even triple the amount of time if your SEO team is slow to implement.
On Page Technical SEO
Off Page SEO
Local SEO
Conversion Rate Optimization
Content Writing
Content Marketing
Website Migration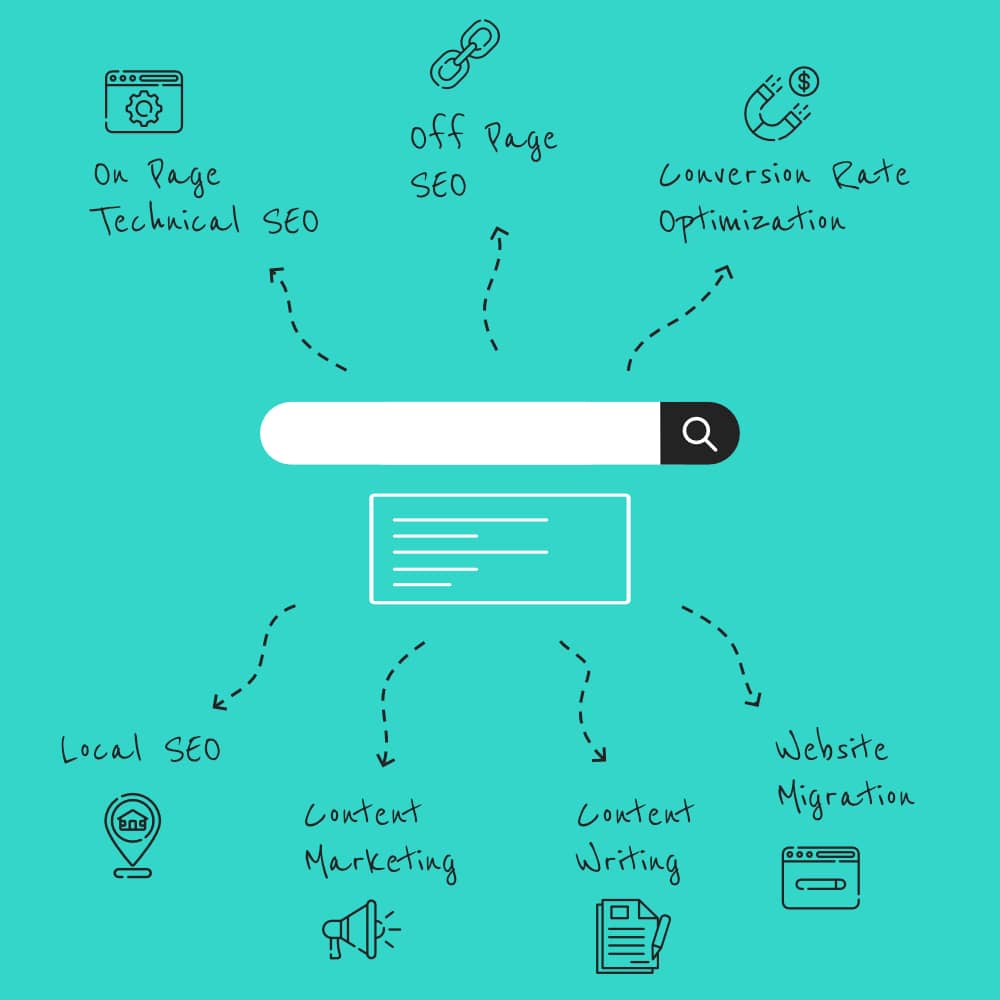 How Highly

Relevant Traffic

Increases Conversion
The ultimate end goal is to convert your organic traffic from Google. What that means is we focus on obtaining you quality organic traffic based on our market research.
Our in depth, detailed keyword research helps us pinpoint the direct, relevant search terms for your business. From there, our SEO experts bind together the right keywords to the right pages. Once the mapping stage is complete, we can gauge whether new pages, or content, will be needed.
Our SEO services ensure that your website is SEO ready and driven for conversion. We perform website audits to bring awareness to areas of needed improvement to be able to increase your conversion rate.
SEO Reporting
& Management
Our Denver-based SEO experts and dedicated account managers will customize your report tailored to your desired communication style. Your key performance indicators (KPI) and overall business goals will dictate how we curate your report(s). To make things easier and partnered into our educational approach, we can record a video personalized to your business that will walk you through the SEO report.
Our transparency remains consistent throughout the reporting process. And whether your reports are positive or lacking, we want to ensure you understand your reports top to bottom. At the start of each month, we will provide to you your report from the previous month.
Denver's Leading
SEO Agency
We are a Denver based team of SEO experts that thrive on the success of your business. We pride ourselves on providing the best quality SEO services Denver has to offer.
Our experts continuously look for growth opportunities, whether it's expanding your targeted keywords or developing and expanding the readability of your on-page content.
When you agree to your partnership with 5280Design Co. you are agreeing to a lifelong connection – in your business and more. We set realistic year-on-year goals for your growth in online presence and conversions in organic traffic. Time is money – let's get started today!