PAID INSTAGRAM ADS WILL ELEVATE YOUR BRAND AND DRIVE SALES - Beyond Likes & Follows
Instagram has over a billion monthly users — and growing! With its insane amount of potential, you can utilize the platform to drive sales and build an unbreakable brand awareness. Our leading Instagram Marketing Agency has streamlined the process and with our creative delivery options you can influence a loyal fanbase and achieve unmatched results.
Audience Targeting
With Instagram being owned by Facebook there is a similarly powerful suite of advertising tools to target your ideal audience. Your ads appear in front of the audience you need based on demographics, interests, location and more.
eCommerce Integration
Instagram has the power to be a shopfront for your business. You can turn your account into a sales driving, money-making machine with optimized Instagram ads directly built for direct sales links.
Creatives Included
5280 is a full-service digital marketing agency where all our packages are developed and designed in house. You tell us your ideal target reach and we make it happen.
Transparent Reporting
Through a transparent and high-quality reporting system, we provide your business all the necessary information for you to make the decisions as you grow. Performance and data drive your advertising choices without your budget dwindling.
Results Driven Approach
We provide your business proactive advice and continued support. The only thing that should keep you involved with a marketing agency is the results — not a piece of paper. We thrive in our connection with you and our goal is to meet your goals. All results, no contracts.
Drive Sales
with Instagram Ads
Instagram is an online culture with the perfect mix of idealistic situations and fantasy escapes from reality. Throw in a healthy dose of aspirational content and feel good posts. This altogether makes the perfect platform for any business to sell their products, engage with their customers, and build an impactful brand awareness.
The advertising tools offered to creators and businesses on Instagram are designed with precise targeting options and advanced learning algorithms. These tools ensure your ads reach the perfect audience. In addition to advanced targeting features is the power of the e-commerce tools. You miss out on a strong sales drive every minute you are not leveraging the force that is Instagram Ads.
Our Instagram advertising agency is here to help you drive sales, and ensure your online storefront is ready to engage a loyal fanbase. We are also certified e-commerce experts, and with the combination of the two you can ensure your Instagram account will exceed your goals.
Build Your Brand
with Our Instagram Advertising Company
The Instagram platform is designed to be engaging and will reward brands that are successful in engaging with their audience. If you can leverage your Instagram accurately and precisely, your content has the opportunity to be spread throughout the platform and not only reach your targeted audience, but a new audience that may have never heard of you — but has an interest in your content. This is a direct doorway to a powerful brand growth.
Unfortunately, Instagram is not going to tell you exactly how to best leverage your content to grow your brand. Instagram is actually a lot like Google in that they want you to create the best content you can and allow it to grow organically. Bringing in the help of our skilled Instagram advertising experts, we strategically craft a strong marketing plan and execute tactics that ensure you are getting the most from your Instagram account.
Our team not only provides to you the best strategies for marketing and advertising, but includes thorough market and competitor research. This gives you an edge over your competition to keep your campaign performing with continued results and focused on your growing audience.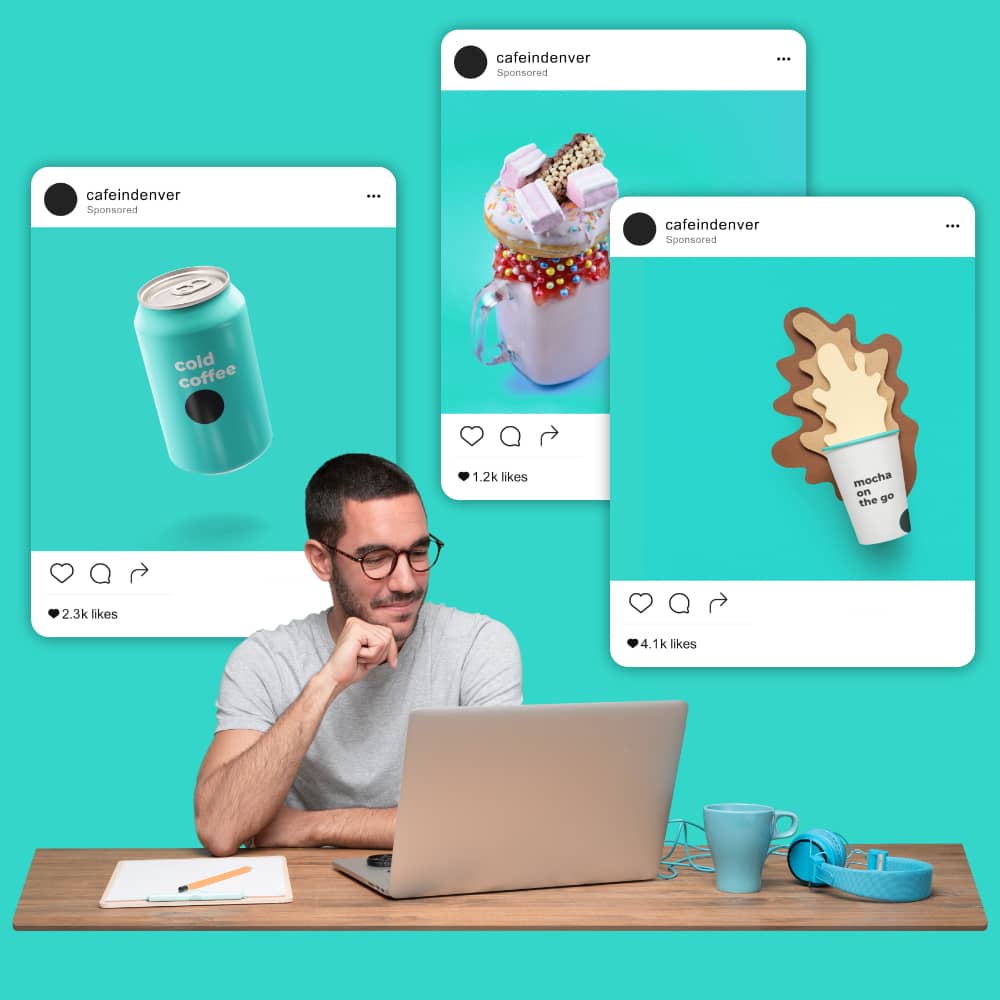 How Instagram Ads
Reach Your Customers
The seamless integration of Instagram ads is next to genius. Your ads are not staring your customers down as direct paid promotions. A good design and a clever position enable the ads to appear as organic posts within a feed, and often your customers do not notice it was ever an ad until they are in the checkout process.
There are a variety of levels and ways a business can place an ad. At the most basic level, you can share a piece of content directly to your account as a post, and then deliberately spread that post outside of the organic audience via paid advertising. You can also place ads through:
Explore
Stories
Direct audience feeds
With Instagram being owned by Facebook, a benefit to the Instagram platform is the ability to access the ads manager. This tool allows you to target exactly who you want, when you want, and with dynamic content to suit the customer's needs and interests. With the ads manager you can also narrow down your audience based on age, location, behaviors and more. An advanced feature to the ads manager is the analytics that seek our interaction and conversion data that enables automated targeting.
Instagram's ability to integrate with e-commerce platforms, like Shopify, allows you to plug your catalog directly into an Instagram advertisement. This allows potential customers to be targeted directly, with products deliberately selected to appeal to them.
Instagram Advertising Services
& MORE
Alongside our Instagram advertising services, we are a full-service digital marketing agency. We are built and structured around ROI and generating revenue — more than like, comment, follow. As a performance based digital marketing agency we focus on data driven results with an analytical approach to drive sales and create impactful brand awareness for your business.
Our reporting is concise and transparent and if your campaigns are not converting, we find out why, and our marketing insights will provide feedback on how to get around it and begin converting. A strong paid advertising approach relies solely on careful targeting to avoid wasting ad spend, and not just spending money to make money.
Our paid advertising specialists and highly skilled design creatives work in tandem to ensure your ads are targeted for the right customers and have an engaging and compelling message.