Utilizing: Google, YouTube, Instagram, Facebook, Gmail, & Doubleclick Ad Exchange
While your target audience is customers who already know your business, and want your products and services — retargeting double-downs the marketing and is arguably one of the best ROI for your business.
If you catch it, you'll notice both retargeting and remarketing as you read. They're basically the same with minor differences – but we'll use both for SEO 😉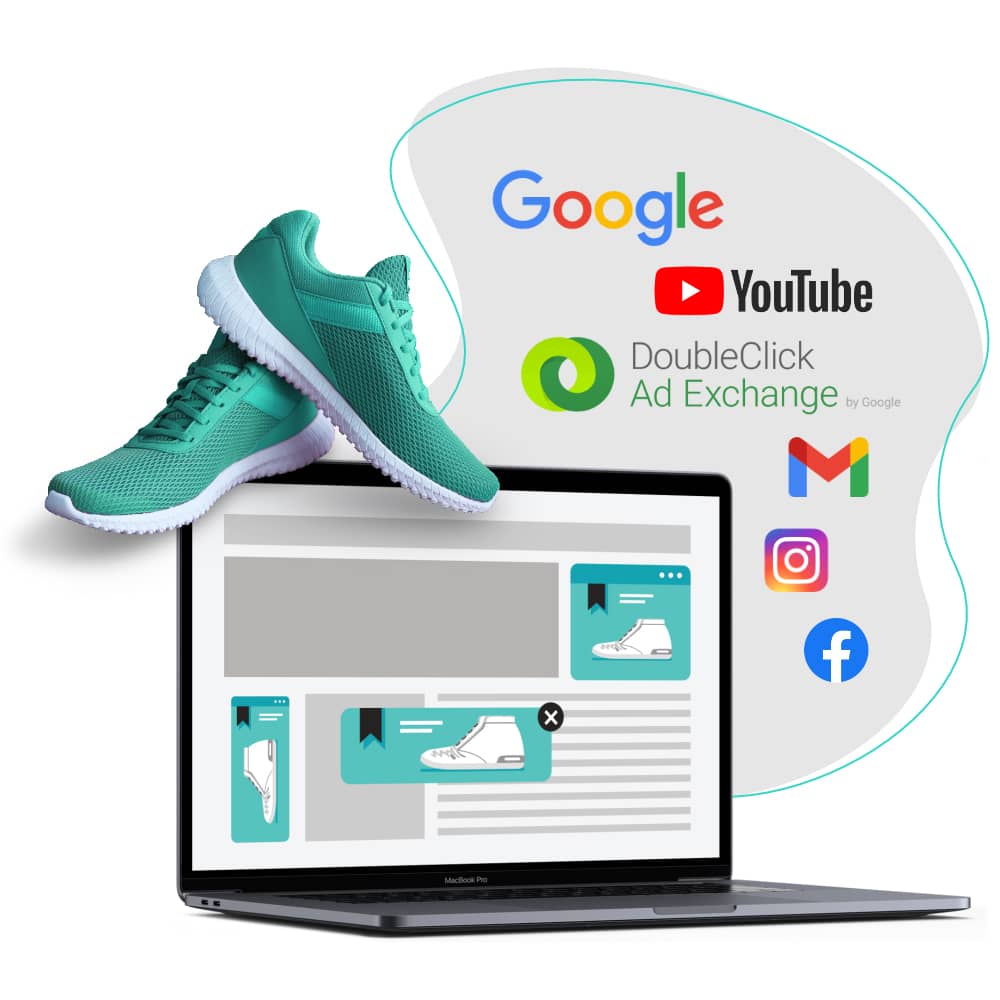 Sometimes visitors come to your website and are incapable of making a decision right then and there, and often there are a variety of reasons why or why not. It doesn't always mean they aren't interested, however. But those reasons for them being unable to proceed at this time are not nearly as important as how you're going to be able to convince them to come back.
Our remarketing services specifically work to target the visitors who have been on your website, by intermittently displaying your brand message on their platforms. This process acts as a reminder to get them to check back in and finish what they've started. In short, remarketing works by inserting a tag on certain pages on your website that in turn places cookies on your visitor's browser — creating retargeted ads.
Why Retargeting
Is So Effective
Taking advantage of this clever tactic can drastically make an impact on your sales increase and interest. Retargeting services is the best way to ensure you're not allowing potential buyers to slip through the cracks. Our retargeting services design and implement an effective and meaningful remarketing campaign without creating any extra fuss. We deliberately connect with your target audience after they leave your website to welcome them back.
Optimizing Your
Remarketing Campaign
Our professional retargeting agency thrives on our ability to maintain a connection to you and your business. Once your remarketing campaign is set, we make a point to revisit the campaign to ensure it's actually working as an effective process in returning visitors to your website.
It's important to remember that while you are targeting visitors who have previously shown interest in your business, your remarketing ads also need to be memorable with strong branding. Considering trying a multitude of combinations for pages on your website which have tags, and which visitors you choose to target. And experiment with the frequency at which visitors are targeted with remarketing ads. You want your business to be strong and impactful, not annoying. And always be mindful of the page you send your visitors to, to optimize the chances of an action or sale.
Denver's Leading
Retargeting Agency
Don't be intimidated by another marketing step. Though it can be time consuming and ineffective if you don't understand how to optimize and analyze the data, let 5280 develop and manage your remarketing campaign so you don't have to. We have been successfully retargeting Denver businesses for years. And many rely on us to develop tailored strategies built for unique business needs. We take care of the development and all technical aspects and diligently select particular platforms to advertise on. We utilize a range of platforms to remarket Denver based ads such as Google Ads, Facebook, YouTube, Gmail, and even Spotify. Rest assured, no matter what kind of business you have, we are able to retarget your ads in the places your visitors hang the most.