LinkedIn Advertising Agency
More bang for your buck with B2B sales
When you work with Denver's leading LinkedIn Ads Agency you reach your targeted audiences, generate high quality leads, and build a strong brand awareness.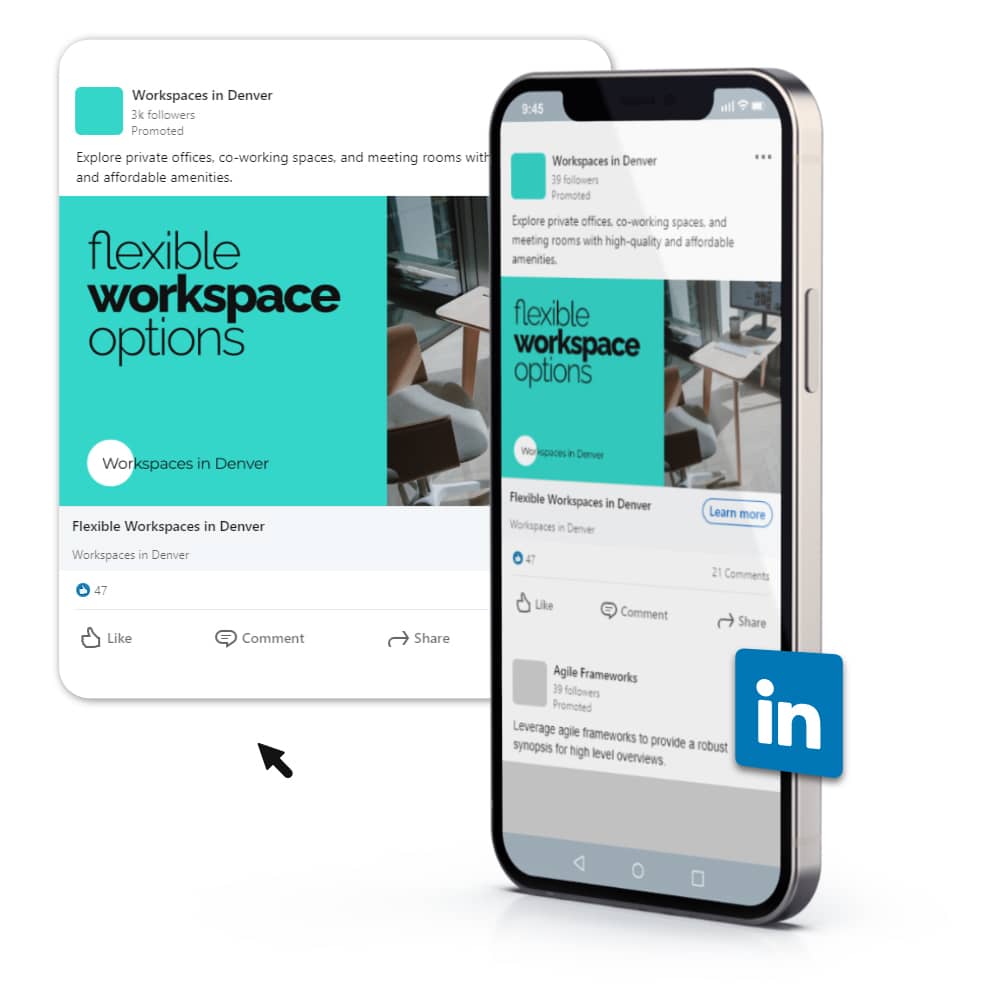 Data-Driven
We believe a strong campaign is built on reliable data. We use data, and optimized processes that are designed to be accurately measured and always flexible. Our decisions are driven on the numbers and we ensure they are always accurate.
Dedicated LinkedIn Experts
We are here to provide you expert advice, with real-time updates. We provide changes as you need them to keep your business growing.
Professional Ad Creatives
5280 has a world class design team of passionate creators. Their services are all inclusive; without extra charges or unwarranted surprises.
Advanced Targeting
Thanks to our diverse experience, we know what it takes to get maximum return and high-quality leads. We understand the benefit of LinkedIn — offering hyper specific audience targeting.
Clear Communication
Our relationship with you takes the driver's seat from day one. We maintain concise and transparent communication and to ensure you're never left in the dark.
LinkedIn Advertising
to Build Business Relationships
LinkedIn was originally created as a jobs marketplace, and has quickly evolved into a professional hub for all things business. There are over 675 million users a month from a plethora of industries that look to converse, network, advertise, and connect. When you work with our LinkedIn Advertising Agency we optimize your LinkedIn based on growing your brand awareness, generating high quality leads, promoting your content, or establishing a strong brand authority.
The main objective with LinkedIn is building a network through professional relationships. The ads offered on the business platform are deliberately positioned to grow your network and build relationships through a targeted approach. You want your ads to capture your ideal audience — those that have a need for your service and offer them the ability to make a purchase exclusively to LinkedIn.
One of your primary goals should be building strong brand awareness. And with LinkedIn's advertising tools this is the perfect approach to doing so. As a professional is browsing their LinkedIn feed, they are compelled through new and relevant content. By pushing your content via LinkedIn ads, you are putting yourself in the position of expert in your particular space and are establishing authority in your brand.
Reach your Audience
with LinkedIn Sponsored Content
Sponsored content is simple. Once you develop a piece of high value content, publish it like a regular post and then through paid advertising you will sponsor that post. This will push the content to your ideal audience with targeted advertising tools. This is an effective and cost-efficient way to grow your brand awareness and capture the audience of interested and engaged professionals.
When your content is sponsored it appears as a native post on the feed. There is a small disclaimer tagged that that piece of content is appearing as a result of paid advertising; however, the post will appear as if it's organic to the feed. This is a non-intrusive approach to advertising and your audience can continue to scroll if it's deemed non-relevant to them, or they can begin engaging if it captures their interest. Often without realizing they've been advertised to.
Growing a professional brand through business-to-business has never been easier and our team here in Denver can help you every step of the way. Networking and relationship building through LinkedIn is the ideal platform for B2B engagement and our team helps your brand deliver high value content, effective brand strategies, and targeted audience engagement.
Tailored LinkedIn
Marketing Solutions
We thrive on our ability to connect with you and your business and build a relationship that clearly outlines what you need and want to succeed. Just like LinkedIn, nurturing relationships and building your professional network. We work alongside you to develop a strong marketing plan to achieve your goals and that clearly identifies exactly how each piece of the puzzle works together.
While we believe in our LinkedIn advertising services to help grow your business, we take the approach of looking at your business's needs as a whole — the bigger picture. We ensure that your advertising not only fits with your brand's voice, but that there's a strong emphasis on sustainable, scalable growth.
At 5280 we can help you tackle your LinkedIn advertising approach whether it's expanding your existing advertising to now include LinkedIn, or create a new marketing solution through the platform.
Retargeting and email follow ups for reaching LinkedIn leads
Capture new emails to deliver future content to new audiences